Super Monkey Ball
My Score:


IGNcube: 8.3
GameSpot: 8.8
With the huge variety of gameplay modes and the amount of polish that is displayed throughout the game, Super Monkey Ball is clearly the best launch game available when it comes to multiplayer gaming, and perhaps even one of the best of all time. Don't get me wrong though. Even as a single player game, Super Monkey Ball is a fine game, but to truly experience the entirety of this game, you'll need a friend.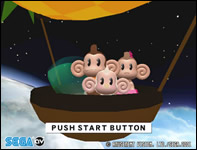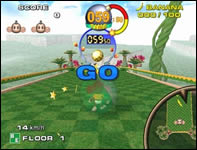 Most wanted..
---
1 Mario Sunshine
2 The Legend of Zelda
3 Resident Evil
4 Metroid Prime
5 Star Fox Adventures
Player's choice..
---
1 Super Smash Bros.
2 Super Monkey Ball
3 Sonic Adventure 2
4 SSX Tricky
5 Pikmin
6 Star Wars: Rogue Leader
7 Tony Hawk's Pro Skater
8 Luigi's Mansion
9 NBA Sreet
10 Simpsons: Road Rage
Top selling games..
---
1 Sonic Adventure 2
2 Super Smash Bros.
3 NBA Courtside 2002
4 Luigi's Mansion
5 Pikmin
6 Star Wars: Rogue Leader
7 Tony Hawk's Pro Skater
8 Madden NFL 2002
9 SSX Tricky
10 Super Monkey Ball