Tony Hawk's Pro Skater 3
My Score:


IGNcube: 9.1
GameSpot: 9.0
Overall, the game is faster and the levels seem to be even more packed with things to interact with than ever before. I'm having a lot of fun with it, and if you're a fan of the series, this is a fine sequel indeed. However, if you've played a THPS game before, you should ask yourself whether or not you want some more THPS action before you pick this one up. If you've never played a THPS game, this is a fine way to be introduced to the series.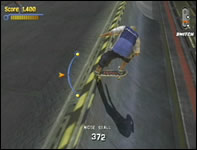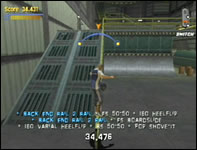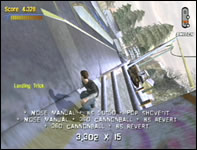 Most wanted..
---
1 Mario Sunshine
2 The Legend of Zelda
3 Resident Evil
4 Metroid Prime
5 Star Fox Adventures
Player's choice..
---
1 Super Smash Bros.
2 Super Monkey Ball
3 Sonic Adventure 2
4 SSX Tricky
5 Pikmin
6 Star Wars: Rogue Leader
7 Tony Hawk's Pro Skater
8 Luigi's Mansion
9 NBA Sreet
10 Simpsons: Road Rage
Top selling games..
---
1 Sonic Adventure 2
2 Super Smash Bros.
3 NBA Courtside 2002
4 Luigi's Mansion
5 Pikmin
6 Star Wars: Rogue Leader
7 Tony Hawk's Pro Skater
8 Madden NFL 2002
9 SSX Tricky
10 Super Monkey Ball